Patio Doors for Homes in Hammond, IN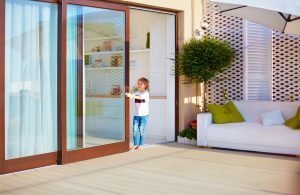 Are you looking for patio doors for your home in Hammond, Indiana? You've come to the right place! The professionals at Rogers Roofing will help you experience home improvement the way it should be—in the hands of dedicated specialists whose goal is to enhance your home, your comfort, and your quality of life.
Types of Patio Doors
What are you looking for in a patio door? Maybe it's a sleek frame that doesn't compete with your favorite view. Or, perhaps it's a touch of old-world charm that speaks with a French accent. Whatever your preferences, Rogers will help you find a patio door that beautifully complements your home and your life. Choose from Ply Gem's expansive collection, which includes:
Sliding patio doors – glide open from the left or right, saving interior space while connecting your indoor and outdoor living areas
Multi-sliding patio doors – incorporate three or more operable door panels that glide open from the left or right to open up your living area
French doors – feature a broad stile and rail for a chic Parisian look (available as sliding and multi-sliding doors)
Swinging patio doors – swing inward or outward for easy outdoor access
Enjoy Your Home Instead of Fixing It
All Ply Gem patio doors are rigorously tested to ensure exceptional durability and performance in even the most demanding climates. The color, design and texture options are virtually limitless, allowing you to create customized curb appeal. Choose Ply Gem patio doors installed by Rogers, and you can spend more time enjoying your home and less time fixing it.
If you'd like more information about Ply Gem patio doors for your home in Hammond, IN, contact Rogers Roofing today. We're also pleased to install Marvin patio doors and windows.