Rogers Roofing in Our Community
All of us at Rogers Roofing take pride in participating in community activities in Northwest Indiana and the greater Chicagoland area.
One of those projects is "Rebuilding Together of South Lake County" in Indiana, during which we provide the materials and labor to install a new roof to low-income homeowners including the disabled, veterans, and seniors.
"Rebuilding Together of South Lake County" began in 1995, and it is part of a national organization formed more than 30 years ago. Our project manager Jon Rios is a board member of the South Lake affiliate. We look forward to our next project, and we encourage other tradespeople in our area to donate their time to help us on our next project.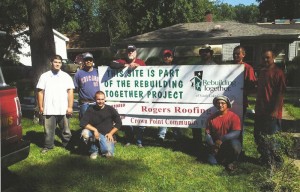 Many of our employees give their time and energy to help us support such a worthy cause. It's a great feeling to know that our company is filled with generosity and the desire to give back to those in our community who are less fortunate.
At left is a team photo at one of our projects in Merrillville in September 2013. Pictured are Sal Flores, David Ruzich, Randy Gonzales, Steve Marcotte, Mike Zierk, Jose Marquez, Antonio Flores, Edwardo Rodriquez, and Jon Rios, project manager. Thank you to all!
We're also very proud to be long-time supporters of the East Side Little League in Chicago, one of the many great local sports programs. In the photo at right, John throws out the first pitch at Opening Day 2014.
Learn more about Rogers Roofing here or contact us today to start your next home improvement project with us!