Engineered Wood Siding for Homeowners in Hammond, IN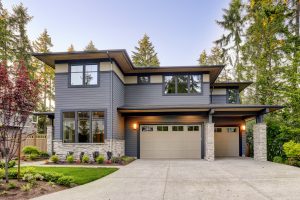 Are you trying to decide which siding material you want to use on your home in Hammond, Indiana? If you like the aesthetic of natural wood, you generally have two options for achieving that look: traditional wood siding and engineered wood siding. While both can be used to create a beautiful clapboard or shingle-style home exterior, there are some key differences between them that you should be aware of. Enlist the help of Rogers Roofing, an experienced siding contractor with a proven track record. We can help you find the ideal type of siding for your home.
Why Not Just Go With the Real Thing?
Usually made of cedar or redwood, traditional wood siding is available in shakes and shingles that can be painted, stained, or treated with oil. However, regular maintenance is required to preserve the charm and classic look of real wood, a porous material that can absorb moisture over time. To prevent mold growth, warping, and rotting, wood siding must be frequently repainted or stained. This reason—combined with the emergence of superior house siding options—has led to a steady decline in the popularity of traditional wood siding.
An Improvement on Nature
At Rogers Roofing, we're proud to offer LP® SmartSide® engineered wood siding, which improves upon all of the positive characteristics of natural wood while eliminating its negative aspects. Here are some of the reasons why this innovative product has become a top choice among remodelers and homeowners alike:
Novel composition – A composite material made from treated wood strands, adhesive resins, and water-resistant waxes, engineered wood is stronger and more resistant to decay than its natural counterpart.
Termite resistance – Treated with zinc borate, LP SmartSide siding is impervious to termite infestation and damage from other pests that burrow into or destroy wood.
Affordability – Overall, engineered wood siding is less expensive to purchase and maintain than traditional wood siding.
When you partner with Rogers, you'll be able to find a siding product that matches your tastes as well as your home's architectural design. We offer engineered wood siding in several distinctive styles, including lap, shake, and vertical, as well as an array of colors, hues, and tones, ranging from calming grays to cool shades of blue.
Contact Rogers Roofing today to learn more or request a free quote on a siding installation at your home in Hammond, IN.