Roof Repair to Address Storm Damage in Hammond, IN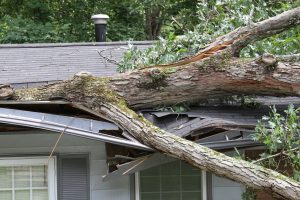 The roof over your home or commercial establishment in Hammond, Indiana, was created to stand up to the hazards of extreme weather. But, no roof is indestructible. Any roof may require storm damage repair due to high winds, soaking rains, pounding hail, heavy snowfall, downed tree branches, or airborne debris.
Because certain types of roof damage can be easily overlooked by an untrained eye, it's a good idea to have your roof thoroughly assessed by a professional roofer after a storm passes. That's because a proper roof inspection requires special skills, equipment, and safety measures. You can feel confident entrusting your roof assessment and repair (if necessary) to the experts at Rogers Roofing. With more than 50 years of industry experience and a long, proven record of customer satisfaction, we're proud to take the worry out of roofing for many residential and commercial customers in the area.
Do You Need a Roof Repair?
After a storm clears, Rogers will promptly dispatch an experienced roofing technician to your property to perform a comprehensive inspection of your roof. Some telltale signs that you may need a roof repair include:
Broken, buckled, or missing shingles or shakes
Granular loss
Cracks, tears or blisters around the edges of the roof
Torn or buckled flashing
Bent, loose, or missing gutter sections
Leaks or water damage on the ceiling and walls
We will fully explain any storm damage we detect, along with your roof repair options. If you need to file an insurance claim, we can assist with that process as well. As your trusted roofing partner, we have you covered!
If a major storm recently passed through Hammond, IN, and you're wondering whether it has affected your roof, don't be tempted by the unrealistically low price advertised by a fly-by-night "storm chaser." Contact Rogers Roofing instead. As a fully licensed, bonded, insured, and local roofing contractor, we will identify any storm damage per insurance company guidelines, then perform a professional roof repair, if needed.