Seamless Gutters with High Reliability & Visual Appeal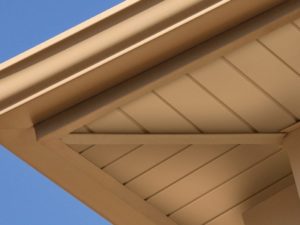 Since 1968, Rogers Roofing has provided products and services to fulfill our customers' home improvement dreams. Gutter installation is one of our most requested services, and when you think about the countless benefits, it's not hard to understand why. We install rugged, seamless gutters, and for dependable long-term protection from water damage, these systems have no equal. Constructed from heavy-duty aluminum for optimal strength and durability, our seamless gutters are a breeze to maintain. Unlike conventional systems, our gutters have none of the seams or splices that can trap leaves and other debris and can clog the system. When that happens, your gutters can't effectively direct water away from your property. The likely result? An eroded landscape, and potentially costly water damage to your home's exterior walls, foundation, and even your roof. You'll be happy to know that our seamless gutters:
Offer a neater appearance than sectional systems, and so won't detract from your home's beauty
Are available in more than 20 appealing, fade-resistant colors to complement your home's color scheme
Will be rolled and cut on-site to your roof's exact dimensions for a leak-free fit
Come with optional gutter guards for extra protection against clogs
We can also replace your home's soffit and fascia to give your roofline an overall fresher appearance. As a way of ensuring strict adherence to our high workmanship standards, only our trained and experienced team members perform our gutter installations. This means that from the day we finish installing your gutters to any stormy days that follow, your home will have reliable water-damage protection to give you complete peace of mind.
Contact Rogers Roofing today to get started with your gutter installation project.