COMMERCIAL ROOFING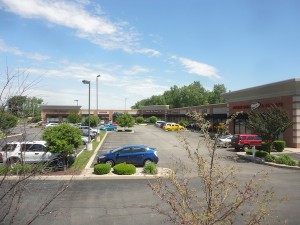 A quality commercial roof depends on two essential elements: excellent materials and superior workmanship. CertainTeed has been one of North America's leading roofing material manufacturers for over 100 years, and Rogers Roofing has 40 years of roof installation experience – so you can rest assured you're getting only the best for your Chicagoland commercial property.
Innovative Choices for Commercial Roofing in Tinley Park IL & Crown Point IN – and beyond!
For flat or low-slope roofs, our roofers in Northwest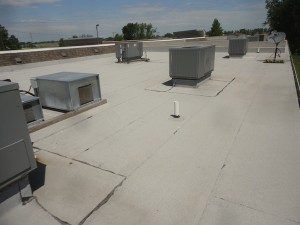 Indiana and Chicagoland are proud to install CertainTeed products exclusively.
CertainTeed leads the way in smart, energy-saving materials that help you meet new building standards. Here are some of the quality choices we feature for commercial applications.
APP and SBS Modified Bitumen
These additives provide enhanced performance characteristics over traditional asphalt. When coupled with reinforcements, such as polyester or fiberglass, they create high-performance roof membranes. APP modified bitumen membranes are self-adhering when heated using a roofing torch. SBS modified bitumen membranes can be formulated for torch application, but are more commonly applied using hot asphalt or cold SBS modified bitumen adhesive. These systems are excellent roofing choices for industrial, commercial, institutional and residential low-slope roofing.
Self-Adhering SBS Modified Bitumen Roofing System
CertainTeed Flintlastic® SA is a premium, self-adhering SBS modified bitumen roofing system comprising a nailable base or self-adhering ply base with a top surface designed to accept self-adhering membrane, a self-adhering mid ply and a self-adhering cap sheet. The Flintlastic SA product line is manufactured with premium quality materials, and the roof system specifications have been engineered to provide roofs that offer excellent longevity and performance. In addition, Flintlastic SA Cap Sheet is available in a variety of colors that complement the most popular CertainTeed shingle colors, for use on carports, porches and other residential low-slope applications.
Excellent Warranty Coverage for Commercial Applications
Using Rogers Roofing for your commercial roofing project may also make you eligible for low-slope roofing warranty coverage. Contact us for complete warranty and maintenance plan details, including limitations and costs.
For Commercial Roofing, Orland Park IL Property Owners Turn to Rogers
No matter how challenging, Rogers Roofing can complete your commercial roofing in Schererville IL, Munster or Dyer skillfully and affordably. Call us today at 219-933-9145 and 773-768-3022 for professional assistance and a FREE quote. We serve Highland, Hammond, Munster, Schererville, Crown Point, Chicago, Orland Park, Calumet City, Homewood, Palos Park, Tinley Park, Evergreen Park, Northwest Indiana and other surrounding areas in IL and IN.