Residential Roofing – in Chicagoland and Northwest Indiana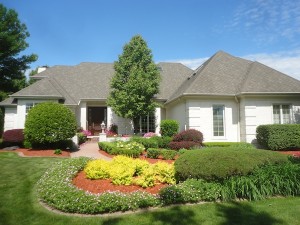 A roof accounts for as much as 40% of the average home's exterior, making your choice of Hammond roofing materials very important. By selecting the right material for your home's architecture, ensuring it is installed by experienced roofers in Chicago and performing routine roof maintenance, you can have a roof that boosts curb appeal and performs well for several decades. Here are the most popular residential roofing choices we offer at Rogers Roofing.
Asphalt Shingles
Now accounting for about 80% of residential roofing in the United States, asphalt shingles are measured against a variety of standards that evaluate fire and wind resistance, tear strength and other key performance indicators. Other advantages include the wide array of rich colors available to choose from, a varied selection of textures that mimic more expensive materials such as wood shake and slate, and long life expectancy. However, the most universally appealing advantage of asphalt shingles can be summed up in one word: affordability.
Rogers Roofing is proud to install asphalt shingles from CertainTeed, the premier manufacturer of asphalt shingles in the United States. CertainTeed produces the industry's most extensive asphalt shingle line. Pioneering the concept of multi-layered shingles, also known as architectural or designer shingles, the company has been an industry leader in color innovation with complex color blending technology and the introduction of bold designer shingle colors such as variegated reds, blues and greens.
Concrete Tiles
Rogers Roofing installs concrete roof tile manufactured by Vande Hey Raleigh, a product that melds old-fashioned tradition and modern innovation into a distinctive covering for residential roofing applications. This hand-crafted, artistic roof tile is a wonderful choice to create a unique roofline for new or replacement roofing projects.
Designed for extreme climates, Vande Hey Raleigh roof tiles are nearly impervious to the passing of time, severe weather and the hazards of fire. This roof tile system withstands wind-driven rain, absorbs minimal moisture and defies termites, rodents and rot. The tiles also meet or exceed industry requirements for strength, water absorption, permeability, freeze-thaw, wind uplift, combustibility, dimensions and weight. Since Vande Hey Raleigh roof tiles are designed to perform for decades beyond installation, they are covered by a limited lifetime warranty for enduring beauty and peace of mind.
Let Us Complement Your Home with Beautiful Dyer Roofing
Rogers Roofing can help you choose beautiful materials that complement your home, budget and lifestyle. When looking for a local roofer, Dyer IN, Orland Park IL and Evergreen Park IL residents turn to Rogers Roofing, Inc.! Call us today at 219-933-9145 and 773-768-3022 for trustworthy guidance and a FREE quote on any roofing material.
Please visit these pages for more information on our service areas of Hammond, Highland, Munster, Schererville, and Crown Point, IN; Chicago, Orland Park, Calumet City, Homewood, Palos Park, IL and other communities.