6 Components that Make Up a Complete GAF® Roof
Dec 05, 2016
The best and lasting solution to an old and failing roof is replacement. This project, however, takes careful planning. For instance, you need to make sure that you get a complete roof system for your home. After all, a roof is more than just the part with the shingles. It actually consists of many essential components that work together to provide superior weather protection and performance.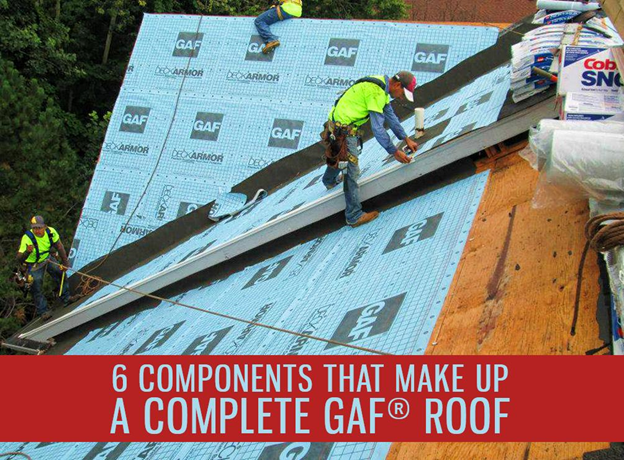 One of the best examples of a complete roof is the Lifetime Roofing System from GAF®, the industry's leading brand. Rogers Roofing, one of the trusted roofers in Northwest Indiana, carries this premium option for our replacement services. From starter strip shingle and ventilation to roof deck protection, these excellent roof systems from GAF ensure dry and damage-free living spaces.
 Here are the components that make up a complete GAF roof:
Lifetime Shingles—Choose from a wide selection of roofing shingles, including GAF's best-selling Timberline® and Designer series with Advanced Protection® technology. You'll be living with your choice for a long time, so be sure to choose the shingles that suit your home's style and décor. You won't lack for options since both Timberline and Designer come in a variety of thicknesses, colors, and textures. They can even emulate the look of classic materials like slate and wood shakes. This makes it easy to enhance your home's beauty.
Attic Ventilation—Your attic ventilation helps a lot in preventing premature wear and tear on your roofing in Orland Park, IL. GAF Lifetime Roof Systems come with Cobra® Attic Ventilation, which removes excessive heat and moisture buildup from your attic. This helps maintain a more comfortable indoor environment with a significant deduction to your cooling costs.
Roof Deck Protection—Your roof deck is one of your system's key areas, so it will need protection, as well. GAF's Deck-Armor™ does this with a revolutionary "breathable" roof deck guard. By providing long-term resistance against roof leaks, you can keep your home free from water damage. It also offers an extra protective layer between the roof deck and shingles from wind-driven rain.
Starter Strip Shingles—These shingles allow for swift installation while ensuring exceptional protection against shingle blow-offs due high wind speeds. For standard options, GAF has Pro-Start®, with WeatherBlocker™ for premium eave and rake starter strips.
Leak Barriers—GAF's WeatherWatch® features a Mineral-surfaced leak barrier, which is perfect for shingle roofs. StormGuard®, however, is film-surfaced, and works best with shingle and metal roofing in Crown Point, IN. Both can eliminate the potential for leaks and the need for costly repairs.
Ridge Cap Shingles—The finishing touches of your complete GAF roof. These shingles offer multi-layer protection against leaks while providing lovely architectural accents to your new system.
When in need of a high-end roof replacement, turn to Rogers Roofing. We ensure durable and longer-lasting performance with our complete GAF Lifetime Roofing System. Call us at (219) 933-9145 (Indiana) or (773) 768-3022 (Illinois). You can also fill out our form today for a free estimate.