Get a $250 Home Depot Card!
Jun 04, 2014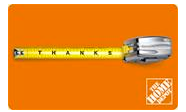 If you're like us, you shop fairly regularly at a home improvement store. Whatever season it may be, there are so many things you need for your home. In fact, we usually pick up more items than what is on our original shopping list — sound familiar? Well, during the month of June, with any new contract above $2,500, we'll give you a $250 gift card to Home Depot. Think of it as kind of a free shopping spree. It will make a great Father's Day gift, too…even if it's after Father's Day. So, sign up with Rogers Roofing for at least $2,500 before June 30, 2014 and you'll receive your Home Depot gift card.
This special offer is valid for new contracts only, signed in June 2014. Cannot be combined with other offers. Other restrictions may apply. Check with your Rogers Roofing representative for more details.