How to Find the Best Roofing Contractor Near You
Nov 02, 2022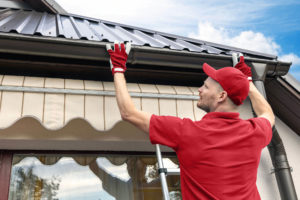 Finding the ideal roofing contractor for your roof replacement or repair can be tedious. Your roof is a crucial part of your home or business—after all, it keeps you safe from all that Mother Nature has in store. So, it's critical that you trust the roofing company you partner with. But how can you find the best roofing contractor near you? Here are four tips to keep in mind:
1. Ask Friends & Family Members for Guidance
Before you get carried away searching for local roofing contractors on Google, consider asking your own network for recommendations. If you have a trustworthy firsthand account that a roofing company does great work (or you can actually see the roof they installed in person), that's more reliable than trusting online reviews.
2. Scour the Internet for Reviews
If asking those closest to you for a dependable roofing contractor didn't yield fruitful results, the next best thing is to consult the internet. The best roofing contractors have rave reviews and an A+ rating from the Better Business Bureau. If you find companies that don't have either, steer clear.
3. Check with Your Neighbors
Take a drive around your neighborhood and see if anyone is currently having roofing services done. You can knock on their door and ask if they recommend the contractor's work or not. Either way, you'll know whether you should do more research on that company or avoid it.
4. See Which Contractors Other Businesses Recommend
Have you recently worked with an exterior remodeling company that delivered excellent results? If so, consider contacting them and asking if they can refer you to a reliable roofing contractor.
Consider Partnering With the No. 1 Roofing Contractor in the Midwest
If you took the above tips into consideration, then you may have come across Rogers Roofing in your search for the best roofing contractor near you. We have been helping homeowners and business owners throughout Chicago, Illinois, and other cities in the Midwest for more than 50 years, so we have more experience than most other businesses in the area. We provide many roofing services, including:
Residential roof replacements
Commercial roof replacements
Roof repairs
Gutter and gutter guard installations
Skylight installations
To learn more about our premium roofing systems, call Rogers Roofing today.