Inspect Your Roof: Ask a Trusted Roofer in Chicago
Mar 17, 2014
Homeowners go through a gamut of concerns when they build or buy houses— like the choice of location, developer, design, layout, paint colors, fixtures, and so on. The decisions get even harder once damage starts to surface and the need for repairs and replacements arises. This could happen to anyone—there may be parts of your home that do not quite look the way they did when you first moved in.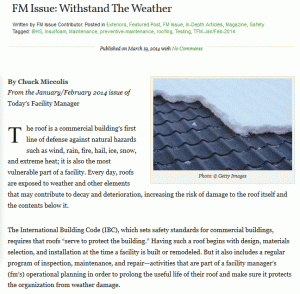 For instance, if you notice minor roofing issues like small leaks, now would be a good time to have it fixed by a Chicago roofer. Understand that you will need professional help in this area because it can be dangerous if you make repairs by yourself. You can, however, start by doing a little research and visual inspections on your own. These tips from Today's Facility Manager may come in handy:
If it's been a while since the roof has been inspected, the first priority should be to identify and repair any major problems. Signs of serious problems may be apparent even from inside the facility. For instance, water stains on a ceiling may signal a leak, which can be caused by a crack or hole in the roof. It is important to understand that even the smallest leak can be a sign of big trouble.

The frequency of inspections for routine maintenance will depend on several factors, including the age of the roof, recent weather events, rooftop foot traffic, and conditions identified during previous inspections. That said, scheduling inspections every six months (in the fall and spring) is an effective way to make sure these are not sidetracked by the press of other important tasks.
Inspecting your roof is non-negotiable. Another thing that's equally important is vigilance when checking the credentials of the contractor you plan to hire. The least you can do is to check whether or not the company you hire has a good reputation. Contact only trusted Orland Park IL roofing contractors like Rogers Roofing, a home improvement company serving Northwest Indiana and Chicago.
In our four decades of service, Chicago and Indiana homeowners have discovered the benefits of Rogers Roofing's first-class workmanship, a service characteristic that earned us the "Big50" award from Remodeling Magazine, an industry authority.
(Article excerpt and image from FM Issue: Withstand the Weather, todaysfacilitymanager.com, March 19, 2014)