Mold Problems in an Airtight House? Ask Hammond Roofing Experts for Help
Mar 28, 2014
Should Indiana residents be concerned about their homes being too airtight? It looks like they should, because building damage from water vapor accumulation in living spaces is mostly due to the absence of adequate ventilation. Concern about the health risks this moisture poses to occupants is growing among homeowners.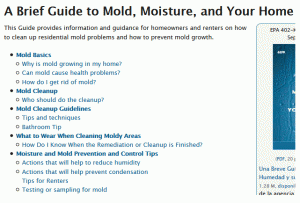 Before calling in a Hammond roofing expert for an inspection, understand that the issue that needs to be addressed here is mold.  The US Environmental Protection Agency has posted a guide on their website to educate the public about how to manage mold growth. Below are some highlights:
Mold Basics

The key to mold control is moisture control.
If mold is a problem in your home, you should clean up the mold promptly and fix the water problem.

Moisture and Mold Prevention and Control Tips

Clean and repair roof gutters regularly.

Suspicion of Hidden Mold

Other possible locations of hidden mold include areas inside walls around pipes (with leaking or condensing pipes), the surface of walls behind furniture (where condensation forms), inside ductwork, and in roof materials above ceiling tiles (due to roof leaks or insufficient insulation).
The article also touched on some of the health risks associated with exposure to mold:
Molds produce allergens (substances that can cause allergic reactions), irritants, and in some cases, potentially toxic substances (mycotoxins). Inhaling or touching mold or mold spores may cause allergic reactions in sensitive individuals. Allergic responses include hay fever-type symptoms, such as sneezing, runny nose, red eyes, and skin rash (dermatitis).
Rather than continually being disturbed by the thought of mold harming your family, call in the experts from Rogers Roofing, a trusted specialist in roofing in Crown Point IN and the surrounding areas. We can do the job of spotting the problem areas in your house—including your gutters, windows, and siding, where mold tends to grow more often. Visit www.rogers46327.dev11.sociusinc.com to learn more about our full range of services.
 (Article Excerpt and Image from A Brief Guide to Mold, Moisture, and Your Home, EPA.gov)