Professional Hammond and Crown Point IN Roofing Contractors Can Help Residents With Insurance Claims and Damage Control After a Hailstorm
Oct 07, 2013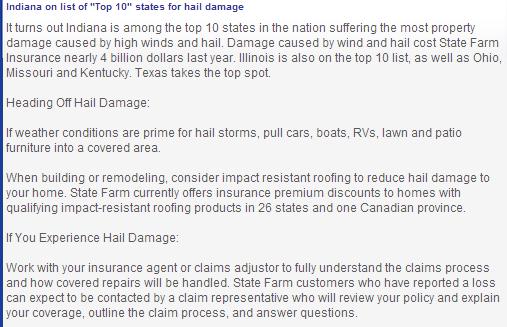 953mnc.com reports that Indiana is among the top 10 states which suffered the most hail and wind damage for 2012:
It turns out Indiana is among the top 10 states in the nation suffering the most property damage caused by high winds and hail. Damage caused by wind and hail cost State Farm Insurance nearly 4 billion dollars last year. Illinois is also on the top 10 list, as well as Ohio, Missouri and Kentucky. Texas takes the top spot.
If You Experience Hail Damage:
Work with your insurance agent or claims adjustor to fully understand the claims process and how covered repairs will be handled. State Farm customers who have reported a loss can expect to be contacted by a claim representative who will review your policy and explain your coverage, outline the claim process, and answer questions.
Wind and hail storms can result in property damage so severe that many home insurance policyholders in affected states are compelled to buy the appropriate coverage. Last year, insurance company State Farm paid almost 4 billion dollars to policyholders for hail and wind damage, with the state of Indiana posting 23,000 claims and ranking 8th on State Farm's list. Indiana residents with hail damage coverage are encouraged to immediately have their properties assessed for the extent of the damage, so they can file the necessary claims.
Wind and hailstorms can cause considerable damage to cars as well as residential and commercial roofing systems. After a severe thunderstorm, it is important for Indiana residents and homeowners, including those in the Crown Point and Hammond areas, to inspect their roofing for damage. Reputable Hammond and Crown Point, IN roofing companies such as Rogers Roofing can carry out thorough inspections to determine the extent of the damage and facilitate insurance claims.
In addition to insurance requirements, a roofing inspection will also help identify the repairs needed to avoid safety risks, such as a roof collapse. After a big storm, residents will often find themselves swamped with roofing contractors who are out to get their business, and as the 953mnc report says, it is important for homeowners to choose only reputable contractors who are properly insured and licensed. Residents of Crown Point and Hammond can get referrals from people they know or go through trusted listings to find highly qualified Crown Point and Hammond roofing contractors, like Rogers Roofing.
(From Indiana on list of "Top 10" states for hail damage, 953mnc.com)