Trusted Roofing Companies in Northwest Indiana Fix Storm Damage Woes
Oct 08, 2013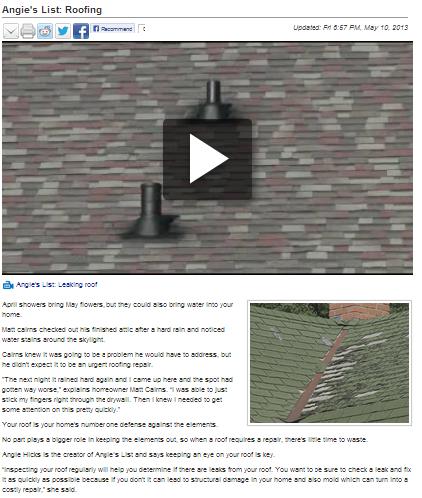 A wndu.com article cites information from Angie's List about roof leaks:
A leaking roof can cause serious damage to your home. Failing to address leaks right away can significantly raise the cost of roofing repair . That is because once the water breaks through the roof and gets into the house, it can cause damage to sheathing, rafters and ceilings.
Angie's List, the nation's leading provider of consumer reviews , asked highly rated roofing companies to for insight into roof leaks.
4 Signs to look for:
You can avoid potential damage from the elements by regularly inspecting your roof, especially following a storm. Be on the lookout for the following signs:
1. Curled shingles on the edges of roll roofing.
2. Broken shingles or sections of roll roofing that are missing.
3. Damaged or missing flashing around the edges of the roof or around objects protruding from the roof.
4. Area where water collects in puddles.
The article reports on an incident narrated by homeowner Matt Cairns, who said that after a night of hard rain, he noticed water stains around his attic skylights. Cairns knew he had a roofing problem that needed to be fixed but didn't realize how urgent it was until it rained hard again that night. When he inspected the water stain spot the following day, he found the condition had deteriorated and he could actually stick his fingers through the drywall.
Matt Cairns' experience is something that is shared by countless homeowners across the country, particularly areas often visited by severe weather conditions, including Northwest Indiana. As the wndu.com article states, the experience highlights the need to conduct roofing inspections particularly after a storm, and the importance of regular scheduled maintenance. Reputable roofing companies in Northwest Indiana can provide residents in the area with the kind of professional roof repair and maintenance services they need.
However, it is also important to carefully choose a contractor, and Angie's List gives some pointers on how to go about this. Among other things, consumers need to see proof of insurance and to check the roofer's license; as well as to avoid storm chasers, or out-of-town companies who travel to places where storms are expected to pass, seeking business from desperate homeowners. Residents of Northwest Indiana may want to consider the services of a roofing company with a solid reputation in the area, such as Rogers Roofing.
(From Angie's List:Roofing, www.wndu.com, May 10, 2013)