Vinyl vs. Wood Siding: Which is Better?
Jun 30, 2021
House siding is meant to protect the exterior of your home against harsh weather, rocks, pests, and other outside threats. With that being said, it's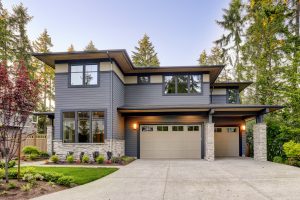 important to note that not all siding is created equally. If you're considering installing either wood or vinyl siding on your home, it's important to know the benefits and drawbacks of both.
Why Choose Vinyl Siding?
Vinyl siding products, such as those manufactured by CertainTeed, tend to be popular among homeowners and for good reason. In addition to performing basic necessary functions like guarding a home against severe weather, moisture build-up, and insect infestation, vinyl siding also:
Provides Impressive Longevity
With proper installation, vinyl siding can last for several decades—up to 50 years in some instances. From an aesthetic aspect, vinyl siding doesn't disappoint—often being offered in a variety of fade-resistant colors so there's no need for repainting in the future.
Requires Little Maintenance
Unlike other siding materials that require strenuous upkeep, no significant amount of time or money is needed to keep vinyl siding looking nice after installation. A quick wash with water and cleaning solution will do the job.
Comes at a More Affordable Price
One of the biggest contributing factors to the popularity of vinyl siding is the fact that it's the most economical option on the market.
A Case for Wood Siding
Wood siding is arguably one of the most desired house siding options for homeowners. Along with its timeless, elegant look, wood siding is also:
Available in a Wide Range of Styles
Engineered wood siding, such as products designed by LP® SmartSide®, are available in a number of stains, styles, and hues—so you're guaranteed to find an option that matches your tastes.
Eco-Friendly
If installing only environmentally friendly products on your home is important to you, wood siding is a great choice. Unlike other siding options available on the market, wood siding is partially composed of recycled materials—helping you reduce your carbon footprint.
Durable & Long Lasting
With its signature SmartGuard® process, LP® SmartSide® engineered wood siding is treated with water-resistant waxes, zinc borate, and a resin-saturated coating that protects against moisture damage, high impact, and the everyday elements.
With Professional Installation, You're the Winner
Whether you choose to go with vinyl siding or decide on engineered wood siding, Rogers Roofing is a contractor you can trust for the installation. We are proud to offer the best of both worlds in house siding, with vinyl siding from CertainTeed and engineered wood siding designed by LP® SmartSide®.
If you've made your choice and are ready to upgrade the protection of your home with a professional siding installation, be sure to give us a call. Contact Rogers Roofing today to learn more about our siding replacement services.