What You Need to Know About Our Roof Replacement Process
Jun 06, 2015
Big projects such as roof replacement shouldn't be left to inexperienced and untrained hands. You need to pick roofing companies that can ensure a smooth process throughout the project.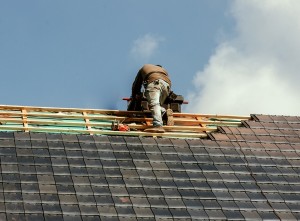 The Most Trusted Roofer
Having a foolproof and client-friendly process sets Rogers Roofing apart from other roofing companies out there. Since 1968, we have been the leading roofer in Chicago, Illinois, as well as Northwest Indiana. We also maintain professional affiliations with top manufacturers in the US to make sure we're using only the best products on our clients' homes every time.
Our Roof Replacement Process
Getting a new roof can be a rewarding experience—that is, if you trust the right people with the job. Here's what you can expect from our roof replacement process:
• Prompt response. When you give us a call, we can set up a consultation at a time convenient for you. We'll visit your home to evaluate your roof, find out your needs, and provide you with an honest estimate.
• Organized Process. Once the date for the start of the project has been set, our production managers will visit your home one last time. We want to make sure everything is in order before we begin with the job. We want to everything we need at the job-site so we can start and complete your project properly and on time.
• Consistent Communication. Once the project has started, we will give you a call from time to time to keep you informed of its progress. We'd also want to hear what you think of the job so far. We'll do our best to accommodate changes or improvements along the way so that you get what you want out of the project.
• Superior Workmanship. Our installers are well-versed on different types of roofing in the area. We're confidence that they can get the job done right no matter what. Apart from being highly-skilled, our teams are also among the most professional people you'll ever meet. can count on. They will arrive on time and complete the work with the least amount of inconvenience to you and your neighbors.
• Post-Project Follow-Up. When replacement has been finished, you will have the opportunity to take a closer look of your new roofing.  If you have comments and questions we will do our best to address them. Our office may also make a follow-up call to determine whether you're satisfied with the job. Once payment has been settled, we'll send you all warranty papers and receipts—along with a thank-you surprise! We will catch up with you by phone every year to make sure you are still happy with our work.
As you can see, when it comes to your replacing your roofing in Orland Park, IL, and the surrounding areas, Rogers Roofing has everything covered for you. If you need to replace your roof, simply make that initial call and we'll get the job done in no time.