Soffit, Fascia & Roof Repairs in Hammond, IN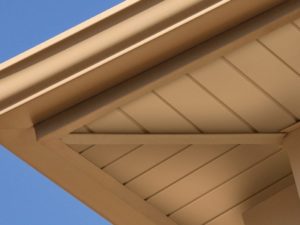 Soffit and fascia are important—yet often neglected—elements of a roof that may need to be repaired or replaced from time to time. For any type of roofing repair—large or small—it's always best to turn to an expert. Rogers Roofing is proud to be one of the most referred contractors in Hammond and throughout Northwest Indiana and Chicagoland. Over the years, we've earned a long-standing reputation for providing attentive customer service with a personal touch. Whether you need a small soffit repair or a complete roof replacement on your home, Rogers can help you keep your entire roof in tip-top shape.
What Exactly Are Soffit & Fascia?
Soffit is the exposed siding underneath your roof's overhang. It has venting that helps keep air flowing between your roof and your attic. Airflow is important to prevent moisture buildup and mold in the attic, and also to release heat from the attic in the summertime.
Fascia is the exposed board on the front of your roof's overhang. It serves as the last line of support for the lower edge of the bottom row of roof shingles, as well as the attachment point for your gutters. Therefore, your fascia needs to be strong enough to support your gutters during torrential downpours.
Signs That Your Soffit & Fascia Need Attention
Much like the other components of your roof, the soffit and fascia are constantly exposed to damaging rain, humidity, sun, wind, flying debris, and pests. At Rogers, we generally recommend inspecting the soffit and fascia at least twice a year to look for:
Cracks
Rotting wood
Chipped paint
Mold and algae
Sagging sections
Insect, bird, and animal nests
Other possible signs of trouble with the soffit and fascia include leaking gutters and poor attic ventilation.
If you spot issues like these early on and address them right away, you may be able to avoid or delay a more extensive roof replacement. Rogers Roofing can help. Contact us today to request a consultation at your home in Hammond, IN.