Is It Time to Replace Your House Siding in Chicago, IL?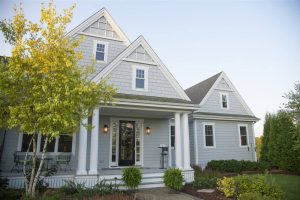 When should you replace your house siding? The answer can vary. Rogers Roofing—one of the most referred siding contractors serving Chicago, Illinois—can help you decide if the time is right. In our experience, most homeowners opt to replace their siding when its protective qualities and/or appearance have been diminished by age- or weather-related damage. Others choose to do so for aesthetic reasons. For instance, you might want to choose siding in a new color to achieve a better match with a newly installed roof.
Signs That It May Be Time to Replace Your Siding
In general, if your house siding is warped, chipped, cracked, or becoming loose in places, you should replace it as soon as possible. Why? These are all signs that your siding is no longer reliably safeguarding your home from harsh weather elements, such as rain, snow, hail, wind, and temperature extremes, as well as insects and other pests. Water infiltration, in particular, can be a big problem because it can cause costly damage to your home's masonry and cement, windows, doors, and foundation. Excess moisture can also create the perfect breeding ground for mold.
In addition to protecting your home, siding can enhance—or detract from—its curb appeal. Consider that damaged siding can take away from the appearance of an otherwise lovely home. And should you one day choose to sell, high-quality siding will make your home more attractive to potential buyers.
We Have an Option for Every Taste & Budget
If you've decided it's time to replace your siding, you can make a savvy choice by partnering with Rogers Roofing. Since 1968, we have been wowing homeowners in Chicago, IL, with our outstanding house siding products and services, and we would be honored to do the same for you. We carry a full line of vinyl, fiber cement, and engineered wood siding products from some of the industry's most well-respected manufacturers, including James Hardie and CertainTeed.
To learn more, contact Rogers Roofing today.