Seamless Rain Gutters Installed in Chicago, IL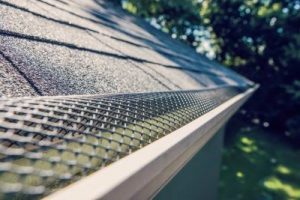 Having properly functioning rain gutters installed on your home in Chicago, Illinois, is vitally important to ensure that it is protected against the damaging effects of water. Although rainwater might seem harmless, it can inflict serious—and expensive—damage if it is not collected from your roof and rerouted to a safer location. Without rain gutters, the water may simply pool on your roof and leak inside your home. Or, it may fall directly to the ground below, where it can damage your flowers and shrubbery, wash away the soil, and, worst of all, wreak havoc on your home's foundation. In sum, rain gutters may not be glamorous but they do serve a highly important purpose.
We Install the Best Type of Rain Gutters
Even if you already have a rain gutter system in place, various types of debris—such as leaves, sticks, acorns, pine needles, and pinecones—can get caught in the seams inside it, creating a clog and preventing the gutters from effectively doing their job. Fortunately, Rogers Roofing offers an affordable solution: seamless rain gutters that can eliminate this problem permanently (as well as the unpleasant chore of gutter cleaning).
Since 1968, Rogers Roofing has been providing home improvement products and services to homeowners in Chicagoland, and rain gutter installation is one of our most requested services. When you consider the benefits of our seamless gutters, it's not hard to understand why. Constructed from heavy-duty aluminum, this product offers unparalleled strength and durability. Unlike conventional gutters, ours do not have seams or splices that can trap debris and can clog the system. For extra protection against clogs, optional gutter guards are available. If you're looking for dependable long-term protection against water damage for your home, our seamless rain gutters are unequaled. And they're available in more than 20 appealing, fade-resistant colors, so they're glamorous, too!
Let's Get Started!
If you would like to inquire about a seamless gutter system for your home in Chicago, IL, contact Rogers Roofing today.