Commercial Roofing for Your Chicago, IL Business
A roof serves as a first line of defense against the elements, which is especially important when you're trying to make it through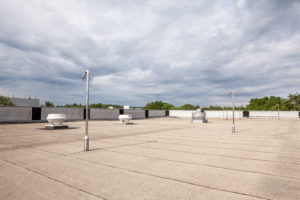 Chicago's harsh winters. Therefore, it's important to consider your local business and make sure your roof is in good condition. With the proper commercial roof installed, you can protect your business from the elements and preserve the integrity of your building.
Since 1968, Rogers Roofing has proudly offered skilled commercial roofing installation for businesses in Chicago, IL. Our team is known for transparent communication, attention to detail, and premium products from leading manufacturers, such as CertainTeed and GAF.
Installing a Low-Slope Roof
Low-slope roofs are a particularly popular commercial roofing option. If you are interested in a low-slope roof, the Rogers Roofing team can install CertainTeed's Flintlastic® SA premium roofing system. This system is especially durable and known for out-preforming standard asphalt.
If you are interested in the Flintlastic® SA roofing application for your building, you can choose from the following options:
Flintlastic SA NailBase — A nailed in base sheet for plywood/OSB or lightweight insulating concrete
Flintlastic SA Cap — A standard cap sheet available in a variety of colors
Flintlastic SA Cap FR — A fire- and impact-resistant cap sheet
Flintlastic SA PlyBase — A self-adhering base sheet or interplay
Flintlastic SA MidPly Premium — A self-adhering base sheet or interplay with an extended warranty
Flat Roofs
At Rogers Roofing, our team also has the experience to expertly install GAF's thermoplastic polyolefin (TPO) single-ply roofing membrane on flat roofs. In fact, we are a 5-star contractor for CertainTeed flat roofing.
This roofing system has a variety of high-performing benefits, including:
Flexibility without the need for plasticizers
Long-term resistance to heat, ultraviolet (UV) light, and fungus
Reflectivity with an emissive white surface that can help reduce energy costs and urban heat island effect
Contact Us Today
If your local business is in need of a new commercial roof, then look no further than Rogers Roofing. Contact us today and our friendly and knowledgeable team will help you every step of the way. We look forward to working with you and flawlessly installing a new commercial roof for your Chicago business.