The Company to Trust When You Need Roof Storm Damage Addressed at Your Chicago, IL, Property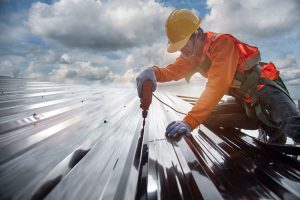 If your roof has sustained damage during extreme weather like high winds, pounding hail, heavy rain or snowfall, falling branches, or flying debris, it's important not to wait to address the aftermath. That's where a roofing contractor comes in, providing the roof storm damage assessment and repair needed to restore a roof to its optimal condition. For home and commercial property owners in Chicago, Illinois, the company to trust for the job is Rogers Roofing. In business for over half a century, we have the skills, equipment, and expertise to address any roof storm damage promptly, ensuring your property will be fully protected again as soon as possible.
Storm Damage Repair
After a storm, it may not always be clear if your roof has been damaged, but there a few telltale signs to look out for, including missing shingles or shakes, bent or missing sections of your gutter system, leaks or water damage indoors, and cracks or tears around the edges of your roof. Rogers Roofing can safely assess the condition of your roof, providing a range of services in the event of roof storm damage. These include:
Comprehensive roof inspections
Explaining the detected damage
Assistance with storm damage insurance claims
Roof repair and replacements if necessary
With Rogers Roofing, you can trust that your roof is in good hands. As a fully licensed, bonded, and insured local roofing contractor, we will not only identify any storm damage but also repair or replace your roof with the industry's best materials if needed.
Contact Us Today
For prompt attention to your roofing system when you need it most, turn to the experts at Rogers Roofing. Contact us today for the professional roof storm damage services you need for your Chicago, IL, property.