Attractive Engineered Wood Siding for Your Chicago, IL Home
A popular choice among homeowners, engineered wood siding allows for the natural and warm look of wood, without the hassle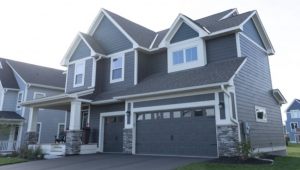 of continuous upkeep. Since 1968, our family-owned and -operated business has provided homeowners in Chicago, Illinois, and surrounding communities with engineered wood siding that is beautiful, durable, and built to last.
Additionally, we work with only trusted manufacturers. With this in mind, you can rest easy, knowing your home will be equipped with engineered wood siding of the utmost quality.
What We Offer
At Rogers Roofing, we proudly install LP SmartSide engineered wood siding,
which offers the following:
Curb appeal — Available in a cedar grain texture, or a smooth finish, engineered wood siding offers the look of wood without any of the maintenance. This siding comes in long boards, which reduce the number of visible seams and make for a clean look. It's also available in a variety of colors, so you can pick and choose what best fits your personal taste.
Longevity – Engineered wood siding is intentionally constructed to last for years and can resist damage from hail, severe weather, termite infestation, and fungal decay.
Protection – LP SmartSide engineered wood siding undergoes four different types of treatments, adding to its overall strength against termites, water damage, and fungus. With this reinforcement, your siding will continuously look as good as new.
Contact Us Today
Add to the curb appeal of your Chicago, IL, home with beautiful and strong engineered wood siding. Give us a call today to learn more about its benefits and our installation process. Our team looks forward to working with you.