Beautiful VELUX Skylights for Your Chicago, IL, Home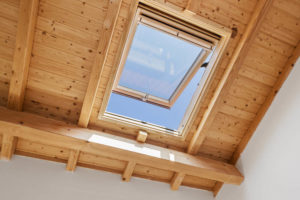 At Rogers Roofing, we offer VELUX skylights that can add some interest and sunlight to the interior of your home. Since 1968 our family-owned and -operated business has served homeowners in Chicago, Illinois, and surrounding neighborhoods by providing top-of-the-line products and flawless craftsmanship. We have a team of highly skilled installers who are VELUX certified, so when you partner with us for your new VELUX skylights, you can rest easy knowing your home improvement project is in good hands.
The VELUX Skylights We Install
Because skylights allow plenty of light into your home, they are a smart way to brighten up your space. Homeowners will often opt for a skylight to increase the amount of natural light in their homes, enhance small living spaces so that they feel larger, or utilize solar warmth to make colder rooms feel more comfortable.
Regardless of why you're interested in having VELUX skylights installed at your home, the team at Rogers Roofing looks forward to bringing you exactly what you're looking for. Our skylights can remain closed to give you a clear view of the world just outside your home, or they can be opened to allow for a fresh breeze to waft through your residence.
At Rogers Roofing, we install the following types of VELUX skylights:
Architectural
Electric
Fixed
Manual
Solar-powered
Contact Us Today for a Skylight Installation Service
At Rogers Roofing, our team of installers are knowledgeable and well-versed in outfitting Chicago, IL, homes with different types of skylights. We can work with you no matter what type of roofing system you have. Our VELUX Sun Tunnel® Skylights are excellent for flat and low-slope roofs, while other VELUX skylight models are excellent for high-slope roofing systems. If you're interested in learning more about the energy efficiency and beauty that our VELUX skylights can offer your home, don't hesitate to call us today. We would be more than happy to go over our skylight options and the skylight installation process.