Roof Repair Services for Homeowners and Business Owners in Crown Point, IN, and Surrounding Communities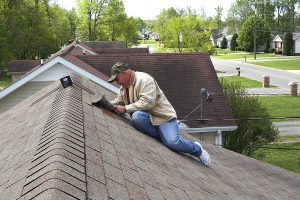 Look up at your roof. Do you notice any missing shingles or cracked tiles? These are some of the most obvious signs your roof is in disrepair—and if your roof is damaged, you'll need a roof repair service to fix it up again. Whether it's been damaged by a harsh storm or regular wear and tear, you can trust the trained team of professionals at Rogers Roofing to make the roof of your Crown Point, Indiana, home or business look and perform as it should.
Our Residential and Commercial Roof Repair Process
At Rogers Roofing, we take a thorough approach when conducting residential and commercial roof repairs. While many roofing issues can be spotted by taking a quick look at your roof or inside your attic, we take it a step further. Before we start repairing your roof, our technicians will perform an in-depth inspection to pinpoint its weak spots. That way, we can completely resolve any damages during your service. And if we notice that your roof's damage is too severe for a roof repair, then we'll suggest a roof replacement instead.
Once we've completed our examination, we will start patching your roof. The grade-A tools and materials utilized by our experienced workers will leave your roof functioning as well as it did before being damaged.
Your Local Roof Repair Contractor
If you need a roof repair for your Crown Point, IN, residential or commercial property, you can count on the experts at Rogers Roofing. For more information, contact us today.