The Commercial Roofing Experts Serving Businesses in Dyer, IN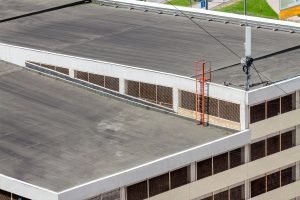 When your company needs a new roof, turn to the commercial roofing specialists trusted by business owners across Dyer, Indiana: Rogers Roofing. We've been in business since 1968, and we proudly serve commercial clients throughout this community.
Our Commercial Roofing Options
Whether your commercial property has a flat roof or a low-slope roof, we're sure to have a roofing option that will serve your needs. We understand that businesses are often operating under financial constraints, and we'll work with you to find long-lasting commercial roofing that not only suits your preferences, but also fits within your budget.
Flat Roofs
For commercial buildings with flat roofs, we proudly install GAF's thermoplastic polyolefin single-ply roofing membrane. This energy-efficient solution offers flexibility without the need for plasticizers, and is also resistant to heat, ultraviolet (UV) light, and fungus.
Low-Slope Roofs
If your commercial building has a low-slope roof, you'll be glad to know that we carry CertainTeed's Flintlastic® SA self-adhering SBS modified bitumen roofing system. Choose from various base, ply, and cap sheet combinations to design the ideal commercial roofing for your company's needs.
Get a Free Quote
If you'd like to know more about the commercial roofing services we can provide for your Dyer-area business, contact Rogers Roofing today. We'll be happy to arrange a time to visit your property so that we can take some measurements, speak with you about your roofing needs, and tell you more about our company and the commercial roofing options we have available.