The Roofing Company of Choice in Frankfort, IL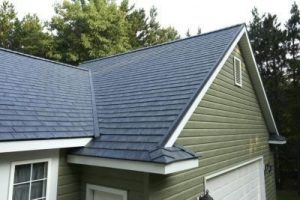 Your roof is the primary source of protection for your home, so it's necessary to choose a reliable roofing company whenever yours is in need of attention. For homeowners in Frankfort, Illinois, the search for that company ends here with Rogers Roofing. As a local, family-owned and -operated roofing company in business since 1968, we have the skills, tools, and expertise to handle all your roofing needs with the utmost care.
Our Roofing Options
As a full-service residential and commercial roofing company, Rogers Roofing can provide:
Premium Asphalt Shingles
We are a CertainTeed Gold Star Contractor and SELECT ShingleMaster™, meaning we are certified to install these industry-leading roofing systems. Reliable and attractive, these shingles also come with CertainTeed's outstanding extended warranty—something few other roofing companies can provide.
Durable Metal Roofing
Looking for a permanent roofing solution? As your trusted roofing company, we can install a top-quality metal roofing system that offers just that. Metal roofing provides a superior level of energy efficiency and durability over other roof styles, plus its attractive appearance can give you a boost in curb appeal as well. We can even work with flat and low-slope roofs common with commercial properties, so you can feel confident we have the right solution for you.
Inspections and Repairs
If your roof has seen better days, we can complete a thorough roof inspection to pinpoint any damage and lay out the best next steps from there. We can complete comprehensive storm damage repairs, and can even assist with the insurance claim process if necessary.
Not Your Average Roofing Company
Whatever your roofing needs may be, you can rest assured that the experts at Rogers Roofing have you covered. And if your home needs a little extra work, no need to worry—we can also handle any siding work, window replacements, gutter installations, and more. Contact us today to get started and learn more about what makes us the trusted roofing company of choice in Frankfort, IL.