Enhance Your Munster, IN, Home With Premium Patio Doors From Rogers Roofing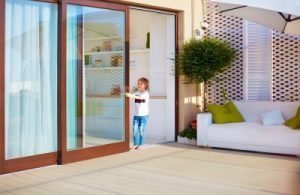 Open your home to a world of possibilities with new patio doors installed by the experts at Rogers Roofing. We can install beautiful new doors that will allow you to move easily between your indoor and outdoor living spaces with hardly a thought given to how you got there. As a family-owned home improvement company, we are dedicated to providing Indiana homeowners like you with simply the best products and services. When you partner with us for your patio door replacement, you can expect gorgeous results that will enhance your Munster home for years to come.
Why Choose Us for Your Patio Doors?
While roofing may be in our name, we are proud to provide an array of exceptional products and installations for our customers. There are plenty of reasons to partner with Rogers Roofing for your patio doors, including our wide selection of styles and expert installation services, which will be completed to your total satisfaction. Choose the right patio doors for your home from our selection of:
Sliding glass doors — These patio doors glide open from the left or right for an easy operation that seamlessly connects you to the outdoors.
Multi-sliding patio doors — With three of more operable panels, these patio doors create immense opportunities to brighten and open your living area.
French doors — Add a chic, Parisian touch to your home with these elegant patio doors that feature broad stiles and rails.
Swinging patio doors — This style swings inward or outward for simple and easy access to the outdoors at your home.
What's more, all our patio doors come from industry-leading manufacturer Ply Gem and are customizable with virtually limitless color, texture, and design options. Ply Gem patio doors go through rigorous testing to guarantee incredible durability and high-performance results year-round.
Experience Home Improvement the Way It Should Be
If you're ready to spend more time enjoying your home and less time fixing it, there's no better company to turn for a superior home improvement experience than Rogers Roofing. Contact us today to learn more about our patio doors and installations for homeowners in Munster, IN.