Engineered Wood Siding for Homes Throughout Munster, IN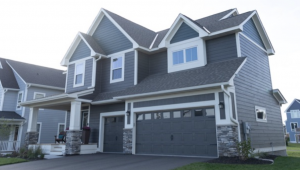 Do you like the appearance of residential wood siding but dislike the maintenance that comes with it? While wood siding is beautiful, it requires frequent upkeep, which is an inconvenience for many homeowners. Luckily, the experts at Rogers Roofing have a solution: engineered wood siding.
Engineered wood siding has a similar appearance to traditional wood siding, but it isn't made of natural wood. Instead, it's made of manufactured board that won't rot or retain moisture the way natural wood does. This means our engineered siding is a longer lasting and more affordable option than traditional wood siding for your Munster, Indiana, home.
LP® SmartSide® Exterior Wood Siding
Rogers Roofing is proud to install LP® SmartSide® wood siding for residential properties. These engineered wood siding panels are some of the most durable siding panels on the market, and they offer superior protection against harsh weather conditions, such as:
Hurricane-strength winds
Extreme heat
Flooding and rain
Ice pellets and hail
Snow and freeze
They are also resistant to moisture, fungal decay, and termites. No matter what the weather looks like in Munster, IN, your home will be well-protected with engineered wood siding installed by Rogers Roofing.
Your Local Wood Siding Contractor
When you partner with Rogers Roofing for your engineered wood siding project, you can rest assured you will receive high-quality siding installed by trained professionals. We offer wood siding in a variety of different colors and styles, including lap, shake, and vertical. Call us for more information. We'll be more than happy to give you a free quote.