Commercial Roofing Solutions in Park Ridge, IL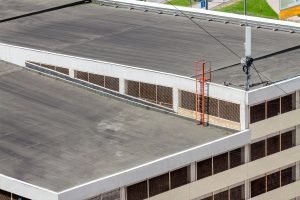 There are many types of commercial buildings—restaurants, offices, stores, warehouses, factories, hospitals, and hotels, to name a few—and no single commercial roofing system is suitable for all of them. Therefore, selecting and maintaining the right roof can be a challenging process. Why not leave it to an expert? With more than half a century in the roofing business, Rogers Roofing has the knowledge and experience necessary to help you choose a roofing system that meets the precise requirements of your building in Park Ridge, Illinois. And once you have it, we can help you keep it in tip-top shape, too.
The Rogers team is fully prepared to take on commercial roofing projects of any size and scope. We use only premium materials sourced from CertainTeed and GAF, two well-respected industry titans that have been manufacturing state-of-the-art roofing materials for more than a century. And we have the manpower and equipment to complete the work on time and on budget.
We Offer Much More Than Premium Products, Though
Of course, we know that successful commercial roofing work requires more than high-quality products and specialized equipment. It also involves attention to detail, an emphasis on quality, and superior customer service. At Rogers, we make safety a top priority, and we will minimize any risk to your customers, employees, and operations while we provide your facility with our utmost care and attention. Whether you need relatively simple waterproofing work or extensive roof repairs on multiple buildings, we have you covered.
When you entrust your commercial roofing work to Rogers Roofing, you can feel confident that the job will be performed according to the strictest standards in the industry. Over the years, we've earned a rock-solid reputation for providing reliable commercial roofing systems, and we'd love to add you to our long list of satisfied customers.
Contact Rogers Roofing today to inquire about commercial roofing for your building in Park Ridge, IL.