Striking House Siding for Park Ridge, IL, Homes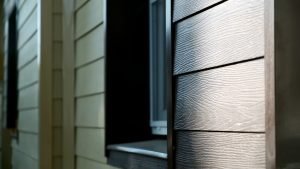 Do you want to drastically improve the appearance of your Park Ridge, Illinois, home? If so, Rogers Roofing can help. We offer a variety of house siding for homeowners in the area, and we would love to give your home a makeover. Our house siding options are manufactured by industry leaders such as LP®, CertainTeed, and James Hardie. No matter what style of siding you want for your home, we will install the perfect option for you.
Our House Siding Options
There are many different styles of house siding on the market, and at Rogers Roofing, we strive to provide some of the top-performing options available. That's why we offer vinyl house siding, fiber cement house siding, and engineered wood house siding.
CertainTeed Vinyl Siding
Vinyl siding is a very popular choice for homeowners across the state, which is why we install house siding from CertainTeed. You can choose from four different styles:
MainStreet™ Vinyl Siding – This style is low maintenance, cost effective, and ideal for homeowners who want a combination of quality and good looks. This horizontal siding comes in a wide range of colors and can have a natural woodgrain or brushed appearance.
Monogram® – This horizontal vinyl siding is inspired by nature, so if you want to feel one with your environment, this is the perfect choice for you.
CedarBoards™ – If you're looking for a house siding that will keep your home insulated, look no further than this siding. This is a very durable and low-maintenance choice as well.
Cedar Impressions® – If you want the appearance of natural cedar without the downsides of wood siding, our stunning Cedar Impressions® house siding may be the best choice for you.
James Hardie Fiber Cement Siding
Our fiber cement siding by James Hardie is well-known for its resilience. This house siding can withstand whatever Mother Nature throws at it, so you can rest assured your home will be well-protected year-round. It is also beautiful and long lasting.
LP® SmartSide® Siding
Our LP® SmartSide® house siding is made of engineered wood, which makes it last much longer and require much less maintenance than traditional wood siding. You can have all the benefits of wood siding with none of the downsides.
Learn More
To learn more about the house siding options Rogers Roofing offers Park Ridge, IL, residents, contact our team today. We look forward to hearing from you and beautifying your home!