Professional Roof Inspection Services for Homeowners in Park Ridge, IL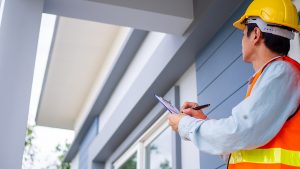 If a severe storm recently passed through Park Ridge, Illinois, it may have taken a toll on your roof. Extreme weather elements such as drenching rain, pounding hail, blanketing snow, and blustery winds can wreak havoc on a roof—and sometimes the damage is not readily apparent. And you probably don't relish the thought of climbing a ladder to take a look.
Instead, you can find out exactly what's going on up there by calling on Rogers Roofing for a professional roof inspection. Having spent more than half a century in the roofing business, we know exactly what to look for. As a fully licensed, bonded, and insured local roofing contractor, we also have the expertise and equipment necessary to promptly address any roof storm damage we find so you can feel confident that your home will be fully protected once again.
Effective Storm Damage Repair
After performing a comprehensive roof inspection, we will fully explain our findings to you and recommend the best way to address any issues. For instance, we may suggest that you replace loose, broken, or missing shingles, flashing, or gutter sections, or address punctures, cracks, leaks, structural damage, mold, or pooling water on your roof. If you'd like, we can help you file an insurance claim for roof storm damage to ensure that you are fully compensated by your insurer for your loss. Then, we can expertly repair your roof (or replace it if warranted) using the industry's best materials.
Don't Put It Off Any Longer
When it comes to repairing roof damage, time is of the essence. If the roof over your home in Park Ridge, IL, needs prompt attention, turn to the experts at Rogers Roofing. Contact us today to request a professional roof inspection.