Don't Wait to Schedule a Roof Repair for Your Park Ridge, IL, Home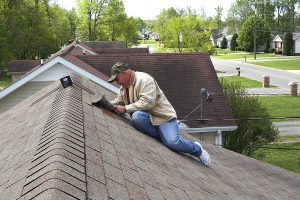 As a resident of Park Ridge, Illinois, you're probably no stranger to harsh weather conditions and the negative impact they can have on your roof. Storm damage can wreak havoc on your roof's functionality, and if left in disrepair, a damaged roof can lead to complex and costly expenses down the line. To avoid that hassle, it's important to schedule a roof repair service sooner rather than later—and Rogers Roofing is just the contractor you can turn to. We have been in business for over half a century, and we love to help local homeowners and business owners with all their roofing needs.
The Roof Repair Process
When you partner with Rogers Roofing for a roof repair, we will send one of our roofing specialists to your property to conduct a thorough roof inspection. Our trained technician will assess the condition of your roof and take note of any problem areas or damage.
Depending on the severity of your roof damage, we may recommend a roof repair or a roof replacement—but only in the event that your roof is beyond saving. We understand that a full roof replacement is an investment, so we'll make every effort to fix the damage before making this suggestion.
Once your roof repair is complete, you will have a roofing system that looks and performs as good as new!
Your Neighborhood Roof Repair Company
At Rogers Roofing, we offer more than just roof repairs. We also complete roof replacements, siding installations, window replacements, and more. For more information about our products and services, call Rogers Roofing today. We look forward to restoring the roof on your Park Ridge, IL, home or business.