High-Performing Seamless Gutters for Your Schererville, IN, Home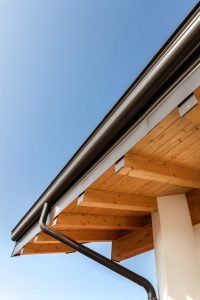 Gutters should be able to reliably carry water away from your home to protect it from costly damage to your walls, roof, landscaping, and foundation. However, all too often homeowners find themselves dealing with clogged, leaking gutters that require tedious maintenance and dangerous cleaning. To make gutter leaks and clogs a thing of the past, choose seamless gutters and gutter guards from Rogers Roofing. We've been the gutter company of choice for Indiana homeowners for decades, and we're confident you'll see why after experiencing our premium gutter system at your Schererville home.
Discover the Seamless Difference
When you partner with Rogers Roofing for your gutter installation, you can expect a superior product with high durability and visual appeal. Our seamless gutters are just that—seamless. This removes the main culprit of most leaks and helps to prevent troublesome debris from getting caught in the system. Benefits of our innovative seamless gutters include:
Exceptional durability—Constructed from heavy-duty aluminum, our gutter system offers long-term protection for your home.
An attractive appearance—Unlike sectional systems that detract from your home's beauty, seamless gutters blend into the roofline of your home.
Perfect fit—Custom cut on-site, our seamless gutters are built to fit the exact dimensions of your roof.
Customizable style options—Choose from 20 fade-resistant colors for a look that perfectly complements your home.
For even better protection, we can also install gutter guards to prevent leaves, twigs, pine needles, pests, and other debris from collecting in your gutters. We will also handle your gutter guard and gutter installation flawlessly, and our trained and experienced team members can also replace your home's soffit and fascia for an updated appearance.
Learn More Today
If you're interested in discovering the benefits of seamless gutters at your Schererville, IN, home, turn to the industry experts at Rogers Roofing. Contact us today to learn more.