Trusted Siding Contractors Serving Homeowners in Schererville, IN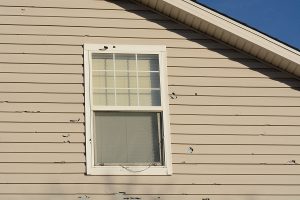 The siding on your home has a big impact on its overall appearance. If your siding is looking worse for wear, then it is probably not making the best possible impression on passersby or potential buyers, if your home is on the market. But there's an easy way to remedy that: Turn to Rogers Roofing, one of the leading siding contractors serving homeowners in Schererville, Indiana. We proudly source high-quality siding products from industry-leading manufacturers, including CertainTeed, James Hardie, and LP®.
The Multi-Faceted Importance of Siding
There's no question that damaged siding is unsightly. But its outward imperfections do more than jeopardize your home's curb appeal—they also compromise its structural integrity. How? Siding is designed to protect your home from the perils of severe weather, keeping your family safe and comfortable inside. Consider that cracks and holes in your home's outer "coat of armor" can allow the intrusion of chilly drafts and damaging moisture, the #1 enemy of wood, as well as a variety of insects, termites, and other critters. You certainly don't want that!
The Importance of Choosing the Right Siding Contractor
Even the highest-quality siding products are only as good as their installation. Unless you're a siding professional yourself, you'll want to entrust this important job to a siding contractor that has extensive experience and a proven track record of completing gorgeous and efficient siding installations. You've got all of that and more in Rogers Roofing, a 5-star contractor for CertainTeed vinyl siding. Through continuing education and coursework, we're proud to maintain this prestigious designation, which confirms that we have the specialized training necessary to install vinyl siding to the manufacturer's specifications. In addition to vinyl siding, we also offer the very best in fiber cement siding and engineered wood siding.
When you choose Rogers Roofing as your siding contractor, you can expect flawless workmanship, responsive communication, and unmatched customer service every step of the way. For your added peace of mind, every product we install is backed by a lifetime labor warranty in addition to the manufacturer warranty.
Learn More
If you'd like to learn more, contact Rogers Roofing today to schedule a complimentary consultation at your home in Schererville, IN.