Awe-Inspiring VELUX Skylight Fixtures Installed in Homes Throughout Schererville, IN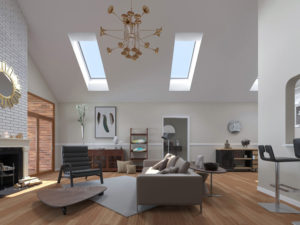 Are you tired of looking up at your ceiling and seeing plain drywall? Plenty of homeowners are, which is why Rogers Roofing offers VELUX skylight fixtures for homes in Schererville, Indiana, and surrounding areas. Skylights are windows that are set into your roof rather than your walls, and they allow natural sunlight to stream into your home from above. They are a wonderful choice for windowless rooms, as they can still let light and fresh air into your home.
While our company name may indicate we focus solely on roofing, that is far from the truth. We are home improvement specialists who can help you with any home renovation project, from roofs, gutters, and siding to windows, doors, and skylights.
Why Choose Our VELUX Skylight Fixtures?
A skylight installation can offer a plethora of benefits to your home. Our VELUX skylight fixtures can provide a scenic view from wherever you sit, stand, or lay in your home, adding a touch of beauty to whichever room they're installed in. They also:
Make rooms appear larger, thanks to the abundance of natural light they allow to enter your space
Will allow you to use less electricity and may help you decrease your electric bills
Vastly increase the curb appeal of your home thanks to their uniqueness
Come in various shapes and sizes to suit any ceiling
We install a wide range of VELUX skylights, including solar-powered, electric, manual, fixed, and architectural.
Turn to Your Local Skylight Contractor
The VELUX skylight fixtures we install in Schererville, IN, homes can drastically alter the appearance of your residential property for the better. Call us today to learn more about our products and services.