Premium Vinyl Siding for Your Schererville, IN, Home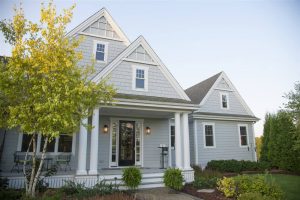 If you're looking to make an upgrade at your home that adds value as well as style, vinyl siding is the perfect choice. For a superior siding installation at your Schererville home, turn to the experts at Rogers Roofing. While roofing may be in our name, we've been the home improvement company of choice for homeowners throughout Indiana for over half a century. When you partner with us as your siding company, you can expect a result you'll love for years to come.
The Vinyl Siding Options You Need
Manufactured by industry leader CertainTeed, our vinyl siding offers an array of exclusive benefits, including exceptional energy efficiency and attention-grabbing aesthetics. As one of the most cost-effective options on the market, vinyl siding provides a beautiful look combined with long-lasting durability. Our vinyl siding will protect and insulate your home through the seasons without warping, rotting, or fading. We are proud to install a wide variety of CertainTeed siding products, including:
MainStreet™ Vinyl Siding
Monogram® Vinyl Siding
CedarBoards™ Insulated Siding
Cedar Impressions® Vinyl Siding
In addition, all our vinyl siding is available in many different of styles, widths, textures, and fade-resistant colors so you can customize for a look that's unique to your home. Whether you're looking to enhance your house with a modern touch or preserve its historic charm while benefitting from energy-efficient features, we have the options you need.
Contact Us Today
To learn more about the exceptional range of vinyl siding varieties we install and the benefits of each type, contact Rogers Roofing today. When you trust us for your siding installation, you can rest assured you've made a smart investment in your Schererville, IN, home.