Gutter Guards Protect Homes in St. John, IN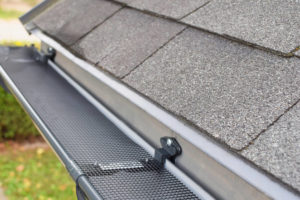 More and more homeowners in St. John, Indiana, are choosing to have gutter guards installed on their home. If your gutters are constantly clogging, sagging, leaking, or filling with leaves and debris, they won't be able to do their job effectively. Gutters are an important part of your home's exterior, serving to channel rainwater away from the house to protect it from the costly damage that water can do to your siding, foundation, and landscaping. When your gutters are clogged or blocked, you have two options: get up on a ladder and clear the muck every time there's a blockage, or call the experts at Rogers Roofing for a lasting gutter solution.
Since 1968, Rogers Roofing has been providing top-of-the-line home improvement services to homeowners in St. John, IN, and throughout the region. We proudly offer Bulldog gutter guards, an innovative gutter protection system that allows water to flow through your gutter system while preventing debris from entering your gutters. With gutter guards installed on your gutter system, you can say goodbye to the time-consuming and unpleasant maintenance of clearing out clogged gutters.
Why Choose Bulldog Gutter Guards
There are many gutter protection options on the market, but Bulldog's gutter guards are especially effective at their job. This is because they're:
Constructed from 98% recycled aluminum, which will not warp, rust, or corrode over time
Designed to fit on new or existing gutter systems that are 5, 6, or 7 inches wide without disrupting your roof shingles
Load-tested to handle more than 14 inches of rain per hour
Available in classic white or dark bronze and feature an aesthetically pleasing low profile
Designed with special ribbing that encourages the natural airflow of a gentle breeze to blow debris off
All in all, Bulldog gutter guards are a durable and innovative gutter protection option that's sure to provide you with years of lasting protection for your gutter system. In fact, these gutters come backed with a 25-year no-clog guarantee as well as our lifetime labor warranty.
If you'd like to learn more about having gutter guards installed on your St. John, IN, home, contact Rogers Roofing today.