The Roofing Contractor of Choice for Residents of Valparaiso, IN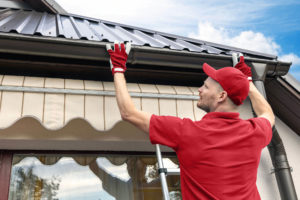 When you look at a residential or commercial property, your eyes are likely drawn to their siding and roofing. So, when you look at your home or business, are you impressed by your roof or are you underwhelmed by what you see? If it's the latter, it may be time to hire a roofing contractor for a roof replacement, inspection, or repair—and Rogers Roofing is just the name to know. We can help transform the look of your Valparaiso, Indiana, property by installing a gorgeous new roofing system or updating your current one to look as good as new. And if you'd like to take things a step further, we'd also be more than happy to install new house siding, replacement windows, seamless gutters, gutter guards, skylights, and more. Rogers Roofing is your one-stop shop for all your exterior remodeling needs.
Premium Products & Top-Notch Service
As a roofing contractor based in the Midwest, we are extremely familiar with the weather conditions that affect Indiana, and we are equipped with the knowledge and tools needed to keep your property safe and secure in the face of Mother Nature. We carry a number of roofing systems, including:
Asphalt shingles
Cedar shakes
Additionally, we partner with renowned roofing manufacturers with decades of industry experience to ensure you are receiving only the best roofs on the market. A few of the brands we work with are CertainTeed, Malarkey, and DaVinci Roofscapes.
Turn to the Roofing Contractor Homeowners & Business Owners Trust
If a new roof is what it will take for you to adore your property, don't wait another day to schedule a replacement with the roofing contractor serving Valparaiso, IN: Rogers Roofing. Give us a call today to get started.