Commercial Roofing Options for Flat and Low-Sloped Roofs
Apr 22, 2015
For commercial building owners, having a well-maintained property is essential. If you want to cut costs on repair or replacement, then choosing quality material beforehand and proper maintenance is the key.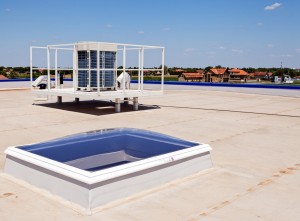 You can tell a lot about the quality of commercial roofing in Evergreen Park, IL, by its ability to withstand harsh elements while staying looking good as new. Many people use flat and low-sloped roofing because of their low installation cost and maintenance requirements. They are also a preferred because of their functional rooftop. They provide enough space for HVAC Equipment, gardens, solar panels, helipads or just about anything the structure will support.
Quality Options for Flat and Low-Sloped Roofs
Because of the numerous benefits that flat and low-sloped roofs offer, they naturally became a favorite of many commercial property owners. At Rogers Roofing, we teamed up with one of the country's leading manufacturers, CertainTeed, to provide the best flat and low-sloped roofs. CertainTeed is leading the way for efficient and energy-saving materials that meet new building standards. Such as the following:
•    APP and SBS Modified Bitumen. These systems are first-rate choices for industrial, institutional, and commercial low-slope roofing. APP and SBS modified bitumen has enhanced performance characteristics exceeding traditional asphalt. When further reinforced with polyester or fiberglass, a high-performing roof membrane is produced.
• Self-Adhering SBS Modified Bitumen Roofing System. CertainTeed's Flintlastic® SA is manufactured using premium quality materials with roof system specifications that have been engineered to provide better performance and longevity. Additionally, this self-adhering SBS modified bitumen roofing is available in various colors that can complement your property.
Important Components of Flat and Low-Slope Roofing
According to the National Roofing Contractors Association, many low-slope roofs have three main components. First is its weatherproofing layer, which is responsible for keeping water from seeping into your roof structure. Another vital element is reinforcement. Reinforcements add strength, resistance, and stability to a roofing membrane.
Lastly, surfacing protects the other two components, weatherproofing and reinforcement, against the sunlight and harsh elements. Some surfacing is known to improve your roof's solar reflectivity, and increase its fire and hail resistance. Ask Rogers Roofing, your local roofer in Chicago for more information about low-slope roofing.
When choosing good commercial roofing, always consider the quality of material and expert installation. At Rogers Roofing, we are specially trained and equipped to install flat and low-slope roofing on different kinds of properties. Let us know how we can help you today. Call us at (773) 768-3022 or send us a message to get started.