Emergency Storm Damage Repair
Mar 01, 2021
What to Know When You Need Emergency Storm Damage Repair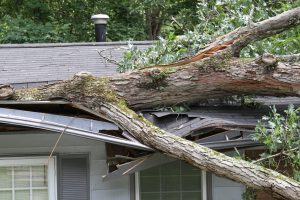 While your roofing system should be designed to withstand intense weather conditions, sometimes Mother Nature likes to throw a curveball. When high winds, pounding hail, heavy rain or snowfall, falling tree branches, or flying debris come your way, your roof may not come out the other side in the same condition as before. If your roof has sustained damage after extreme weather, it's important not to wait to address the aftermath. Luckily, emergency roofing companies can address the damage and restore your roof before the destruction can spread with emergency storm damage repair.
After the Storm
Unfortunately, not all roof storm damage is created equally, nor can it always be spotted by the untrained eye. A few signs to look out for include:
Broken or missing shingles or shakes
Granular loss or tears around the roof edges
Loose, bent, or missing sections of your gutter system
Visible leaks or water damage on your ceiling and walls indoors
Torn or buckled flashing
If you think your roof has been damaged, it's best to turn to a roofing contractor for a professional roof repair.
The Company to Trust for Expert Emergency Storm Damage Repair
As the longstanding roofing contractor of choice in the greater Chicago area, Rogers Roofing is the company to trust for the emergency storm damage repair you need. We can perform a comprehensive roof inspection to assess the damage, fully explain the repair options, and even assist you with the insurance claim process. We work only with the industry's best products, and our skilled and trained team has the expertise to promptly restore your roof to its optimal performance.
To learn more about how we can help with emergency roof repairs after a storm has damaged your property in the Chicago, Illinois, area, contact us today. As a fully licensed, bonded, and insured local contractor, you can rest assured your roof is in good hands with us.