The Importance of Removing Snow from Roofing in Crown Point, IN Homes
Jan 11, 2014
Some huge winter events in Crown Point in Northwest Indiana, like the Winter Market, take place at the end of November when snowfall is just starting. Locals will likely consider the schedules of such festivities a fortunate thing since winter is currently reaching its peak in the area, according to a report by the Post-Tribune staff.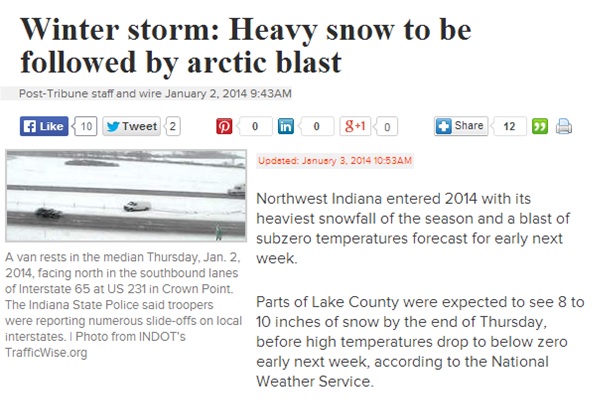 Northwest Indiana entered 2014 with its heaviest snowfall of the season and a blast of subzero temperatures forecast for early next week.

Parts of Lake County were expected to see 8 to 10 inches of snow by the end of Thursday, before high temperatures drop to below zero early next week, according to the National Weather Service.
While locals can retreat to the comfort of their homes to avoid the heavy snowfall hassles, their roofing in Crown Point, IN is not so lucky. Roofs are not only at the mercy of outside elements, they also serve as the convenient landing area for falling snow. While roofs are generally designed to handle snow load, some may not be up to the task as well as others, leaving room for problems to arise, like a roof leak, or worse, roof collapse.
For this reason, clearing snow from a roof is a critical step to minimize possible problems. Ideally, snow should be removed from a roof after a heavy snow storm, but homeowners can also follow the rule of thumb of clearing the snow from their roof as soon as it reaches a foot in height. Homeowners with too high or too steep roofs are recommended to follow safety precautions or wear safety gear when removing snow from their roof.
A snow rake is the homeowners' best tool to get rid of the snow, and this should be at least 20 ft. in length. However, homeowners should remember that an incorrect use of a snow rake can cause more damage to a roof, like when they rake snow off shingles that are already curled and these come loose. Fortunately, trusted Munster roofing companies can refasten the detached shingles or replace them altogether if necessary.
Organized winter events have kept some Crown Point locals busy. However, now that winter is peaking, locals have something else to be preoccupied with—snow removal. If troubles arise despite the efforts though, locals can depend on trusted roofing contractors like Rogers Roofing, which also serve the cities of Hammond and Highland.
(Article Information and Image from Winter storm: Heavy snow to be followed by arctic blast, Posttrib.suntimes.com, Published 2 January 2014)
http://blog.syracuse.com/at-home/2010/01/clearing_snow_and_ice_protect.html