Trust These Experts When You Need Prompt Roof Repair Service in Chicago, IL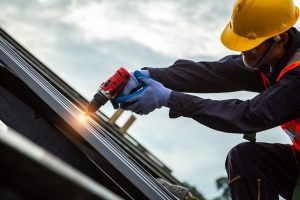 Roof repairs are critical in times when your roof has experienced damage. Whether a large storm has recently barreled through or the years of rain, snow, hail, sun exposure, and fallen debris have finally taken their toll, it's important to take action before the damage can spread. When home and business owners in the Chicago, Illinois, area need reliable roof repair services, they turn to Rogers Roofing. As a local, family-owned roof repair company, we have the skills and expertise needed to handle virtually any roof repair. Our services include:
Roof Inspections
If signs of damage aren't as obvious as a fallen tree branch or caved in ceiling, a roof inspection performed by one of our experienced technicians is exactly what you need. By assessing the condition of your roofing system, we can detect any damage and explain the roof repair options from there. Even if you need to file an insurance claim for storm damage repairs, we can assist with that process to make sure your claim is treated fairly.
Roof Repairs and Replacements
Our team at Rogers has over 100 years of combined roofing experience. This, along with our top-of-the-line tools and materials, means that we can handle roofing projects of any scale. If your roof needs repair work, we'll get right to it and make sure it's back in tip-top shape as soon as possible. If, however, the damage sustained is severe enough to warrant a replacement, we can perform a roof installation with the industry's best products. We'll make sure your roof is back in action and ready to take on whatever Mother Nature throws at it.
Your Local Roof Repair Contractor
If your roof is in need of attention, don't delay—turn to the roof repair experts at Rogers Roofing. Contact us today to learn more about our residential and commercial roof repair services in the Chicago, IL, area.