Premier Roofing Contractors Serving Homeowners & Business Owners in St. John, IN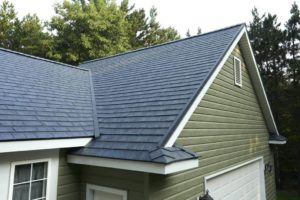 Spend less time looking for roofing contractors and more time enjoying the stunning scenery in St. John, IN. Rogers Roofing is a family-owned and -operated company that has been in business since 1968, and we are proud to be the leading roofing contractor for local residents. With over five decades of experience in the roofing industry, you can rest assured we have the skills and know-how needed to complete your roofing project with ease.
We complete residential and commercial roof replacements and repairs, and our team understands that a new roof is a major investment. Not only does it impact the curb appeal of your home or business, but it also affects the safety and integrity of the building. As the area's best roofing contractor, we guarantee high-quality materials, meticulous installation, and excellent service.
Trusted Exterior Home Remodeler Since 1968
As a seasoned exterior remodeling contractor, Rogers Roofing has seen it all. Our highly skilled and trained technicians are fit to handle roofing projects of all complexities—and we'll do so flawlessly. Each year, our team delivers on our promises, providing homeowners and business owners in St. John with exceptional craftsmanship.
Our comprehensive list of services includes:
Stunning Roofing Systems Manufactured by Industry Giants
Rogers Roofing partners with industry-leading brands to bring you top-notch roofing systems you'll adore. A few of the manufacturers we work with include CertainTeed, Malarkey, and DaVinci Roofscapes.
If your roof has seen better days and is in need of a pick-me-up, we are happy to complete a repair service. We can fix up your asphalt shingles, cedar shakes, or modified bitumen roofing without a hitch.
No job is too big or too small for Rogers Roofing. We aim to be your roofing contractor of choice. This is why our company is a certified CertainTeed SELECT ShingleMaster™ installer, which allows us to offer you the best lifetime warranty coverage available.
We also belong to the Certified Contractors Network (CCN), which is an industry organization focusing on best practices and customer satisfaction. Contractors affiliated with CCN are known for their expansive skillset and high-quality work.
Additionally, Rogers Roofing is honored to be recognized by the Better Business Bureau with an A+ rating. Combining our experience with professional recognition, we have become the leading roofing contractor in the St. John, IN, area.
Reach Out to the Roofing Pros Today
If you would prefer to spend your days enjoying the great outdoors rather than researching the best roofing contractor in your area, we have good news for you: You can stop looking. Rogers Roofing is the roofing company for you. Call us today.