Bay & Bow Windows Provide Plenty of Natural Light to Homes in Hammond, IN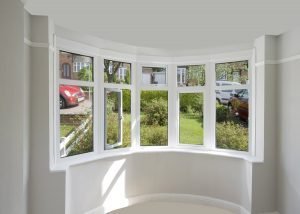 Bay and bow windows offer elegance, beauty, dimensionality, and plenty of natural light, making them a great choice for homeowners in and around Hammond, Indiana. Featuring a series of windows that angle outwards, bay and bow windows can add some space to your room while creating a unique aesthetic. If you're thinking of adding either of these gorgeous window styles to your home, turn to Rogers Roofing. We offer top-of-the-line bay and bow windows from trusted manufacturers like Ply Gem and Marvin.
The Difference Between Bay and Bow Windows
Bay and bow windows are very similar, which is why they're typically grouped together as window styles. While both feature a series of three or more windows that add dimension to your room, there are some key differences between these window types. Bay windows will have a center window that's typically larger than the windows around it. This center window may be fixed in place, with only the side windows opening and closing. By contrast, bow windows feature a series of windows that are all the same size. They typically consist of four or five windows to create a more curved look.
Both of these window types are gorgeous options that have plenty to offer. And, when you choose Rogers Roofing for your bay or bow windows, you can be confident that you'll receive beautiful windows that are energy efficient, low maintenance, and designed to stand the test of time.
Get Started with Rogers Roofing
To learn more about the bay and bow windows we offer and install for homeowners throughout the region, contact Rogers Roofing today. We will be happy to schedule a free consultation at your home in or near Hammond, IN.