Many Types of Windows Available for Homes in Hammond, IN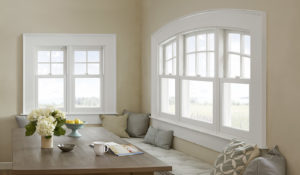 Are you in the market for replacement windows for your home in Hammond, Indiana? Consider working with Rogers Roofing, a Ply Gem certified installer. For more than 75 years, Ply Gem Residential Solutions has led the industry with an unmatched portfolio featuring all types of windows. Ply Gem is sure to have the perfect solution for your needs, preferences, and budget, and Rogers will install it flawlessly for you.
Which Type of Windows Will You Choose?
Rogers offers all types of Ply Gem windows, including:
Double-hung windows – open from the top or bottom to allow in fresh air, and tilt inward for easy cleaning
Single-hung windows – lift open from the bottom while the top remains stationary
Casement windows – open outward with the turn of an easy-to-reach handle, providing optimum airflow and energy efficiency
Slider windows – easily glide open from the left or right to deliver a big view and ample fresh air
Awning windows – hinged at the top and open outward with the turn of a handle (can be left open during rain without letting water in)
Bay and bow windows – create additional interior space, dimension, and curb appeal
Garden windows – extend outward and provide space with shelves for plants or décor and side windows that open for ventilation
Geometric windows – available in a variety of distinct circular, arched, and linear shapes to add character to your home
Picture windows – provide an expansive view (this energy-efficient style does not open)
Whichever type of windows you decide on, Rogers Roofing will help you choose the right material—whether it is vinyl, aluminum-clad wood, aluminum, or wood composite—to ensure you get the most out of your investment. You can feel confident that your new windows were designed, engineered, and crafted with you in mind. What's more, all types of Ply Gem windows are ENERGY STAR® certified, featuring insulated sashes and frames and gas-filled panes, and all are backed by a lifetime transferrable warranty.
Whether you prefer the stately elegance of a double-hung window, the sleek convenience of a slider, or a larger-than-life bow window, Rogers Roofing can help you make it happen. We have windows that will perfectly suit your lifestyle and home in Hammond, IN. Contact us today to learn more. We also offer high-quality windows from Marvin.