Picture Windows to Brighten Your Hammond, IL, Home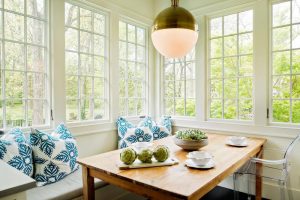 Picture windows offer unobstructed views that can make any room feel larger and accommodate almost any size space. Whether you're looking to add a touch of extra light where it's needed, or like the security and energy efficiency that comes with windows that don't open, picture windows are a great choice for any room in your Hammond, IL, home. And when you partner with the window masters at Rogers Roofing, you can feel confident that your windows are made of only the highest-quality materials and are being installed by the best. After all, there's a reason we've been the trusted choice of local homeowners for over half a century.
Expand Your View
While picture windows can't open, they offer the perfect way to flood any room in your home with natural light because there are no movable panes to obstruct the view. This will open up any room and make it feel larger, so whether your home office is feeling a bit drab or you're looking for more organic light for your vanity, picture windows have the unbeatable ability to fit any space. The fact that they don't open also makes these windows the most secure and energy-efficient window style available.
What's more, picture windows can be combined with other styles to create a design statement that is truly your own. Add to the curb appeal of your home and create a striking focal point that brings the outside in, making your house the place to be.
Contact Us Today
To experience the benefits that picture windows can have for your Hammond, IL, home, contact Rogers Roofing today. We pride ourselves on our superior installations and customer service, so our friendly team is ready to help you every step of the way.